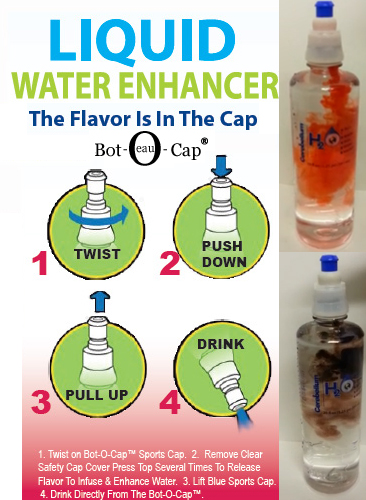 Bot-O-Cap®
beverage mixes are formulated to contain just the proper amounts of specialty ingredients that will enhance beverage taste, and authenticate its characteristics.
Bot-O-Cap®
provide the means to create and deliver the best possible drinks that everyone will love.
Bot-O-Cap®
drink mixes will delight the taste buds, due to the many tantalizing healthy tasty and nutritious drink combinations that can be created and stored in the
Bot-O-Cap®
reservoir.

The
Bot-O-Cap®
universal plastic bottle cap reservoir fits on almost any standard water and or sparkling water bottle. The
Bot-O-Cap®
is used as a reservoir to infuse your favorite water. The flavors and ingredients are stored inside the cap reservoir and with just a push the flavors can be added to your favorite water bottle and or other beverage of choice.

Bot-O-Cap®
will enhanced your water with a healthy dose of nutrients. The 100 percent natural and calorie-free
Bot-O-Cap®
nutrients when mix with water will help replenish your body. Simply push down the cap to release the nutrients into your favorite bottle water and drink directly from the
Bot-O-Cap®
functional sport cap.

Bot-O-Cap®
offers a very inexpensive way to enhance your water with some great nutrients.For product and sales inquiry
please call
(201) 898-0556
or
contact us
to learn more about our product offering. Visit us often to see our newest innovative products and
flavors