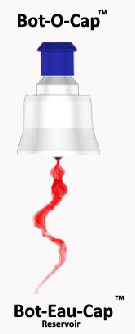 We can help you introduce a new niche functional beverage products powered by
Bot-O-Cap
™ reservoirs beverage cap dispersion to the market place.

We have the ability to formulate a customized blend of desired functional ingredients complete with specific micro nutrients, vitamins, flavors, sweeteners and more to help produce a variety of niche novelty ready to drink beverages using the
Bot-O-Cap
™ reservoir.

Bot-O-Cap
™ is the latest delivery system for a fast acting functional beverage consumption needs.
Bot-O-Cap
™ direct liquid infusion provides a convenient way to deliver a nutritional benefit as an alternative, to powders and pills.

Consumers looking to hydrate and at the same time take in a specific nutrients can now use the
Bot-O-Cap
™ as a way to try out new functional beverage ingredients.

We also offer a variety of unique formulation options to help enhance your product, such as Kosher, all natural and organic ingredients and a wide variety of packaging options, everything needed to launch a custom private label beverage. For product and sales inquiry
please call
(201) 898-0556
or
contact us
to learn more about our product offering.

If you can imagine a product chances are we can make it happen using the
Bot-O-Cap
™ reservoirs beverage cap dispersion.